India vs England: India are undercooked for Edgbaston Test, says Moeen Ali | Cricket News
[ad_1]
Moeen Ali
explains why Stokes & Co. will be favourites in Birmingham
MUMBAI: England's smashing form, which has seen them clean sweep New Zealand 3-0 in the recent Test series at home, makes them the favourites for the rescheduled fifth Test against India at Edgbaston, feels England allrounder Moeen Ali.
"If this series had finished off last year, India would've won it. If you had asked me 4-5 weeks ago, I would've said India would win. But now I feel (that) England will win. India are a little bit undercooked," Moeen said on Tuesday from Birmingham.
"Last year, India had four games under their belt. This time they've had a practice game and some net sessions. At the moment, England, in my opinion, are the favourites, because they've just played three good Tests, and the way they are playing, they are very confident compared to last year. Their mindset has changed and they're playing positive cricket. India will still be very difficult. They've a fantastic bowling side," Moeen said.
Moeen, who played his last Test at the Oval during that unfinished series last year, said India would miss skipper
Rohit Sharma
– if he fails to recover from Covid in time – and his fellow opener KL Rahul, who is out with a groin injury. Both the openers provided fine starts to the team during that series, which India currently lead 2-1.
"I also feel that the combination with KL Rahul and Rohit, the way they were batting last year. . . they were the real problem (for England) because they were giving India great starts most of the time, seeing off the new ball. KL Rahul is a huge miss, and potentially Rohit will miss out. So, I believe that England are the favourites," said Moeen.
In September last year, Moeen bid adieu to Test cricket, because he didn't seem to be enjoying while playing under the then-England team management of Joe Root (captain) and
Chris Silverwood
(coach). However, England's recent refreshing approach and entertaining brand of cricket, inspired by the new coach-captain duo of Brendon McCulum and Ben Stokes, has prompted the 35-year-old to change his decision. Moeen, though, isn't a part of England's Test side against India.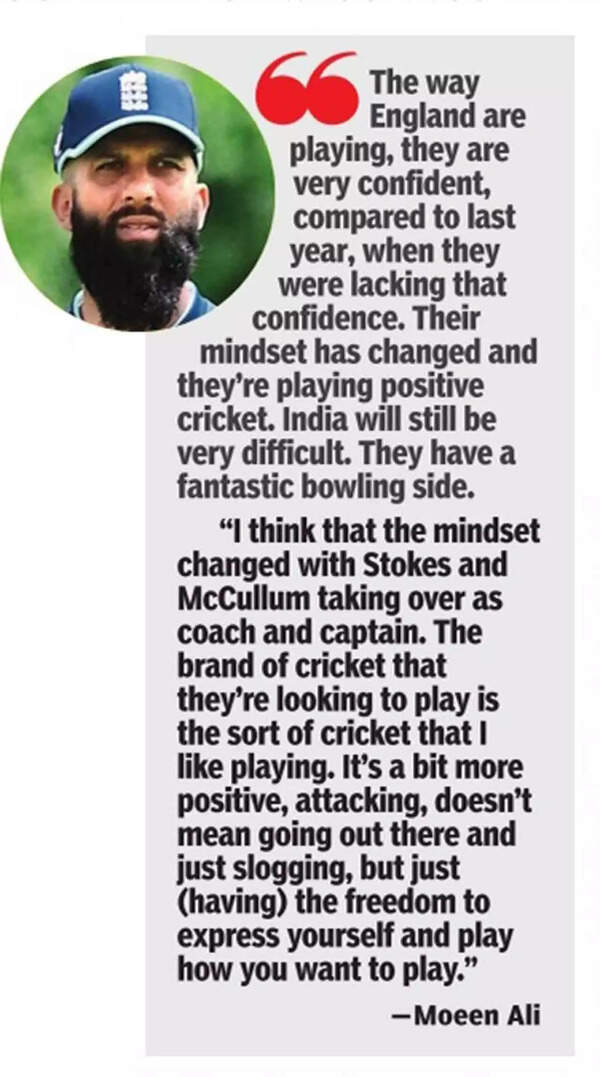 'THE MINDSET CHANGED'
"I've played with 'Baz' McCullum at RCB, and we get along well. He called me as soon as he got the (England) job, just asking if I wanted to play (Test cricket). And how much fun it's going to be, so, it wasn't so much the fact that Root and Silverwood were the captain and coach. I think that the mindset changed with Stokes and McCullum taking over. The brand of cricket they're looking to play is the sort of cricket I like playing.
"It's a bit more positive, at- tacking, doesn't mean going out there and just slogging, but just (having) the freedom to express yourself and play how you want to play. Watching the last two games live, really made me want to play Test cricket (again). At the time when I retired (from Tests), I was just tired of the same old mindset.
"(We) were not playing well as a team, and were a bit disorganized etc…but these guys (Stokes and McCullum) really got the players (to perform well) so, that's one of the big reasons why I want to play Tests again," Moeen added.
'PLAY BOTH ASHWIN & JADEJA'
With conditions being much drier than usual this time, Moeen said that he would like India to play both their spinners in Ravichandran Ashwin and Ravindra Jadeja.
"Ashwin and Jadeja are brilliant allrounders. I would play them both because the wickets and conditions have been good. I would go with three seamers and two spinners," he said.


[ad_2]
Source link